Plemont Headland developer 'not approached about sale'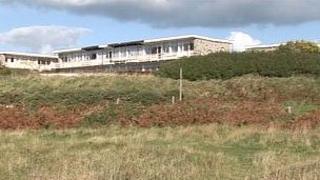 An architect working for the people who own the Plemont Headland questioned whether people really wanted the States to buy it.
Senator Sir Philip Bailhache wants the States to buy back the headland and have it restored to its natural state.
Architect Paul Harding said the owners planned to turn two thirds of the site into a natural area.
He said they had never been approached by the States and that it would cost more than £10m to buy.
Senator Bailhache said he felt the majority of islanders wanted the headland to be returned to nature.
He said the site was the wrong place for a housing development.
'More than £10m'
Mr Harding, who submitted the plans on behalf of the developers, said he was unsure if islanders really wanted to buy the site.
He said: "The actual value of the site as far as my client is concerned is well in excess of £10m.
"I would question Sir Philip. Is spending substantially more than £10m, plus the cost of remediating the site, good use of taxpayers' money?"
The former Pontins holiday village on the headland above Plemont Bay has been in a state of decay for years.
Plemont Bay Estates submitted its plans to build a mixture of three, four and five-bedroom houses and a reed-bed rainwater recycling pond.
A public inquiry has been set up to help planning minister Deputy Rob Duhamel decide the future of the site.