Jersey's Treasury Minister will face a vote of censure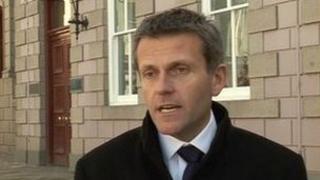 Jersey's Treasury Minister, Senator Philip Ozouf, will face a vote of censure in two weeks.
States members will be asked to reprimand Senator Ozouf for how he handled the failed bid to buy an office building to be used by the police.
A report on the Lime Grove House deal by the Comptroller and Auditor General catalogued accusations of harassment and bullying by Senator Ozouf.
A vote of censure was lodged by Senator Sarah Ferguson in the States earlier.
Senator Ozouf said he would be making written comments on the matter ahead of the debate which was expected in two weeks.
Held to account
Senator Ferguson said in her proposition: "It is vitally important that the [States] Assembly affirms its unquestioned right to hold ministers to account.
"This is one of the foundations upon which ministerial accountability is built.
"We look forward to the minister being held properly to account."
The Chief Minister stood by Senator Ozouf saying his behaviour was caused by stress.
The plan to lodge the vote of censure was announced a couple of weeks ago and at the time, Senator Ozouf said was surprised and disappointed about it.
The deal to buy Lime Grove House for about £8m fell through when the owner decided to lease it to a finance company.
Now, the Home Affairs department plans to build a new police headquarters on part of the Green Street car park.