New Jersey bus firm 'should honour Connex pay rise'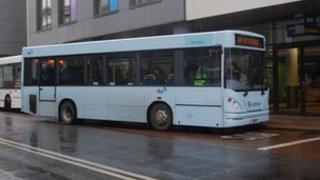 Jersey's bus workers have said they hope their new pay deal will continue if Connex loses its contract.
Connex is expected to lose the contract to the States preferred bidder CT Plus, which runs Guernsey's bus service.
The Unite union will meet with Transport and Technical Services (TTS) to argue that the pay rise agreed with Connex should continue from January under the new owners.
Nick Corbel from Unite said the new company must take on the new pay deal.
He said: "We have an issue relating to the transfer of the business to a new company at the beginning of next year, and we have to look at a move of current terms and conditions to the new employer."
John Rogers, the chief officer of TTS, said: "Terms and conditions have been set on last year when we went out for tender for the new contract.
"So what that means is as of the first of January the terms and conditions the drivers are in revert back to last year's."
Connex has been running buses in Jersey since 2002 and had its contract renewed for three years in 2008.
On Monday Jersey bus workers agreed a 3% pay rise.
The company had been in talks with Unite after a planned strike which could have affected thousands of passengers was called off.
Mr Le Roux said he was pleased a solution had been found.