Jersey man is left off sex offenders register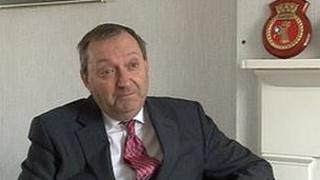 Jersey's Home Affairs Minister said it was "puzzling" the Housing Department was not told about a sex offender.
The man was put into States housing in St Clement.
But he was moved when notices appeared warning residents about his conviction for sex offences involving young girls.
Home Affairs Minister, Senator Ian le Marquand, said he was investigating why the man was not on the sex offenders register, which would have informed Housing of his conviction.
He said he was writing to the judges responsible.
He said: "What is puzzling in this particular case is... there was a conviction and a sentence and yet housing were still unaware of the situation, that is puzzling."
'Independent lifestyle'
Jersey's Housing Minister, Deputy Andrew Green, said: "The Housing Department, strives to ensure that all applicants who apply for social housing are treated with fairness and equality as well as acknowledging the diversity of applicants.
"Those who are considered to be vulnerable or who require additional support to live an independent lifestyle are referred by an agency, either statutory or voluntary, to the Supported Housing Group."
A group that manages offenders said there must be a balance between protecting islanders and helping offenders rebuild their lives.
The Jersey Multi-Agency Public Protection Arrangements was set up 18 months ago to look at sex offenders' needs and ensure the safety of the public was not compromised.
Chairman Mike Cutland said: "I think there will always be people who will be very resistant to living in a community where there are sex offenders.
"The reality of course is that sex offenders will come out of prison, and sometimes they are not sent to prison."
There is a public meeting later to debate how community safety can be assured while maintaining the rights of sex offenders to safe housing when they leave prison.
The Social Security and Tenants Action Group, who organised the meeting, said they had invited Home Affairs and the Housing department to the meeting to explain their policies.
It is at 15:00 BST at the Eastern Good Companions Club in St Clement.