Jobs at risk after scrap metal firm loses contract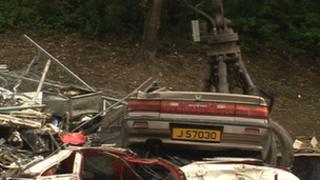 About 12 jobs are at risk when a scrap yard closes at the end of the year after owners lost out on a contract.
Picot and Rouille failed to make it on to a final shortlist for the government deal after providing scrap metal services for nearly 40 years.
Don Palmer, from the firm, said it was upsetting to be out of the running for the new deal so soon.
Transport and Technical Services Minister Deputy Kevin Lewis said the company "did not come up to the mark".
Mr Palmer said he hoped the contract to offer scrap metal services would go to a local company.
Deputy Lewis said the shortlist did include companies from outside the island.