Jersey officially free from Bluetongue livestock disease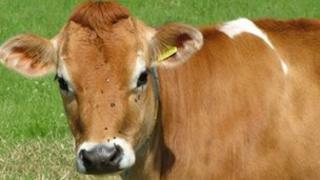 Jersey livestock are officially free from the threat of Bluetongue disease, says the States Veterinary Officer.
Linda Lowseck said the island's disease-free status was confirmed by the European Commission following a blood sampling and testing programme.
The livestock disease, spread by biting midges, was first found in 2007 in northern Europe.
Mrs Lowseck said it posed a real threat to cattle, sheep and goats but was averted by vaccinations.
The symptoms of Bluetongue include fever, lethargy, lameness and swelling of the mouth, head and neck.
'Assists exports'
Animals affected may die or take a long time to recover and lose weight, with a reduction in milk yield that might not recover.
Mrs Lowseck said although there had never been a suspected case of the disease in Jersey, the island wanted to achieve international recognition of disease freedom, so the blood sampling and testing was carried out in 2010 and 2011.
"Official recognition that Jersey is free of Bluetongue has been achieved by the superb uptake of the vaccination programme to prevent the disease from establishing," she said.
"The recent confirmation of Schmallenberg virus, for which there is no prevention, in the island shows how vulnerable Jersey livestock is to disease agents which can be blown across from mainland Europe.
"Freedom from Bluetongue assists farmers exporting animals and contributes to Jersey's high health status and reputation."