Jersey's population rises by 900 to 98,000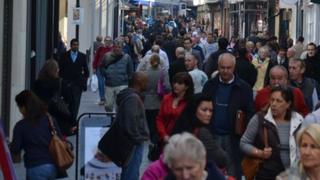 Official States figures show Jersey's population grew by 900 people last year.
The States estimates 98,000 people now live in the island.
Two-thirds of the increase was due to people moving to the island. The rest was because there were more births than deaths.
But Chief Minister Senator Ian Gorst said fewer migrants had come to Jersey during the recession, compared to before it.
He said: "We know that historically the island has relied on immigration, it has helped with our tax take and the services we provided.
"Migrants have contributed financially to our community, and undertaken jobs that some members of our community have not wanted to take, so it takes time to re-balance that approach."
He said the government was working to ensure any immigration was absolutely necessary.
He said it reflected his attempts to secure jobs for existing islanders.
He said: "That is our active policy to try and make sure that the jobs in our community are for those who are already here so we don't have to pull in labour like we did in the past."