Andrew Riseley named as Channel Islands' regulatory boss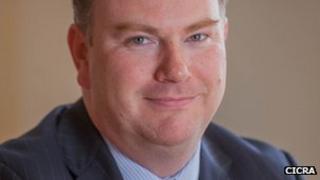 Andrew Riseley will replace John Curran as the Channel Islands Competition and Regulatory Authorities' (CICRA) new chief executive.
Mr Curran will step down at the end of this month.
Mr Riseley, a competition lawyer who came to the Channel Islands a year ago, will be overseeing pan-island regulatory activities.
The Jersey and Guernsey regulators joined together about 18 months ago to create the Channel Islands authority.
CICRA has overseen changes including the introduction of new mobile phone providers and the licensing of new postal services.
He said: "The principle challenge in Guernsey is the imminent introduction of a new competition law.
"In Jersey... it is the enormous investment by JT into their new fibre network.
"It is important for us to have a role in ensuring that competition over that network is preserved and enhanced and that consumers get a good deal."