Up to 22 residents flee Jersey homeless shelter fire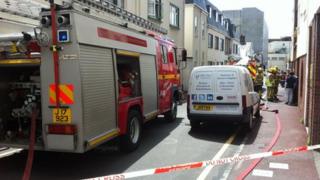 Up to 22 people had to flee a homeless shelter in St Helier after a fire broke out in one of the bedrooms.
Lewis Street in St Helier was cordoned off and all occupants safely left the building while firefighters tackled the incident.
Clive Russell, Jersey's Fire Service's station manager, said crews used equipment to get rid of the smoke so the building could be re-opened.
He said the staff reacted well with one attempting to extinguish the fire.
He said: "The outcome was very good in that everyone can sleep in the building this evening."
He said Jersey's Fire Service was investigating the cause of fire but no one was hurt.