Jersey Itex walkers stride out on 2012 trek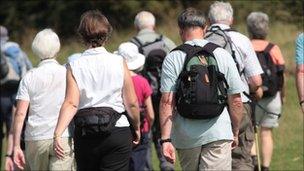 More than 1,200 people have been striding out on Jersey's annual round-the-island walk.
The 22nd annual 48 mile (77km) Itex-Rotary walk got under way at the Elizabeth Ferry Terminal in St Helier at 03:00 BST.
Stuart Morpurgo and Dominic Maher crossed the finish line at the Waterfront after 7 hours 48 minutes and 7 hours 50 minutes respectively.
Local charities are set to benefit from money raised by the walk.
In addition to the full walk, there was also a shorter walk - a quarter of the length - called the Lieutenant Governor's Challenge.
More than 1,000 people were involved in the walks last year, raising £115,000 for charities.
Related Internet Links
The BBC is not responsible for the content of external sites.