Jersey unemployment figures rise in May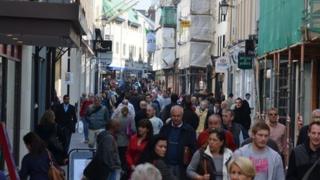 Unemployment in Jersey rose in May, according to the States of Jersey Statistics Unit.
A statistician at the unit said the underlying trend was rising when using the seasonally adjusted figure.
The figure took away factors such as the academic year and holiday periods which might affect how many jobs were available and how many people were looking for work.
In May 1,720 people in Jersey were registered as unemployed.
That was a drop of 20 from April, but using the seasonally adjusted figure, the statistician said it had risen by 40 since April and was 70 higher than the average for the previous three months.
One in six people had been out of work for over a year.
'Frustrating'
There were 250 teenagers aged 16 to 19 registered as unemployed, a fall of 20 from April.
An islander who has been unemployed for just over a year said it was very hard to find work in Jersey.
Jason Le Monnier, 44, returned to Jersey after a living in the UK.
The former part time firefighter and member of the Honorary Police said there were jobs but employers were being very selective.
He said: "It is very very frustrating, if I apply for so many jobs and you really don't hear back from many of them."
The 2011 census found that 4.7% of the population were out of work as of March 2011, about 2,500 people.