Jersey staff plan for social security department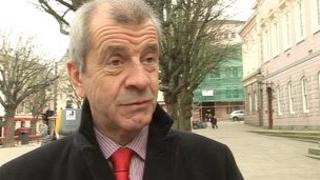 There are plans to increase staff and expand facilities in the Jersey social security department to deal with the increase in unemployment.
Social Security Minister Senator Francis Le Gresley said he had made a bid for more States funding to get more staff to cut waiting times.
Chief Minister Senator Ian Gorst said getting people back to work was his top priority.
There were 1,720 people out of work in Jersey in May.
The total cost of income support in 2011 was £90m. Senator Le Gresley said the estimated bill in 2013 would be in the region of £100m.
The number of people registered as unemployed with the Social Security department has been increasing for the past two years, up from 1,060 in May 2010.
Senator Le Gresley said: "We haven't got sufficient areas to see everybody in private, which is what I would like to see, but that isn't possible in that building."
The minister said his department was working hard to try to find people jobs, including providing re-training.
He said: "We have a dedicated team who deal with employers and we would hope to give our unemployed people the chance to apply for these positions, we are doing a lot of back to work training.
"We will train people for the jobs we are advised are coming up to make sure they are suitable to apply for those jobs."