Jersey's Hautlieu school and Highlands college get joint principal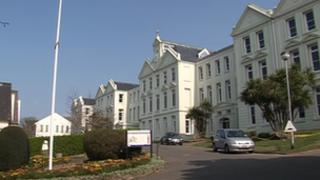 Jersey's further education college and selective secondary school will share a principal from September.
Current Hautlieu school head teacher Lesley Toms will take over running Highlands College as well as her current school duties.
Highlands is Jersey's higher education college which offers courses geared towards work, such as building and catering, engineering and finance.
The emphasis at Hautlieu secondary school is on academic ability.
Education Minister, Deputy Patrick Ryan said the two-year interim role would help bring the two institutions closer together.
Ms Toms will become Executive Principal of the two schools and will also lead a review into their roles in the education system.
The timing coincides with the retirement of the Highlands principal Ed Sallis. The permanent appointment of his successor's been put on hold during the review.
Ms Toms said the aim was to give students more opportunities to study a wider range of subjects and different courses.
Deputy Ryan said: "If there is scope for developments, now is the perfect time to make them.
"In particular, I would like to give students the chance to study a vocational course alongside A-levels, something they cannot do at the moment."