Man was drunk when he fell from cliff in Jersey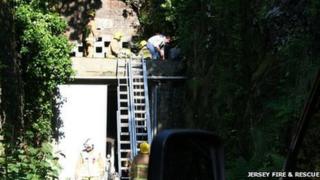 A holidaymaker who died after falling from a cliff in Jersey in May had been drinking heavily before he fell.
An inquest heard Peter Scurr, 69, from Southampton had the equivalent of more than eight pints of beer in his system.
Mr Scurr fell about 15m (about 50ft) on to the concrete roof overhanging the transport department hangar in St Aubin.
His wife also fell from the cliff path and is in a stable condition in Southampton hospital.
The States Analyst Nicholas Hubbard told the inquest Mr Scurr had a significant amount of alcohol in his blood and urine which, if he was a moderate drinker, would have impaired his judgement and balance.
He said the amount would have made him three times over the legal limit for driving.
Mr Scurr was said to have died from multiple injuries caused by the fall.
The body was released for the funeral and the inquest adjourned while further investigations are carried out.