GST rise 'hitting Jersey shoppers'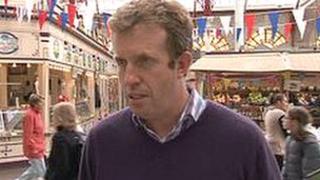 Raising the goods and services tax (GST) in Jersey from 3% to 5% has caused people to spend less money, Jersey's Chamber of Commerce has said.
David Warr said islanders' purchasing power had decreased which meant less income for the States.
Jersey's Economic Development Minister, Senator Alan Maclean, said online competition was the reason retailers were struggling.
"Online competition was growing before the recession started," he said.
"The issues that Jersey faces on the high street are ones which we are seeing all over the UK in every town and city.
"It is not just about taxation, it is not just about the recession, it is also about a shift in the way in which consumers purchase."
Jerseys Treasury Minister, Senator Philip Ozouf, said: "The levels of GST income have increased in line with expectations.
"They are down slightly because of the falling retail sales but we are on track to collect in the region of £80m worth of GST which is of course up from the £50m that was collected at 3%."