Jersey's first Folklore festival attracts 2,000 people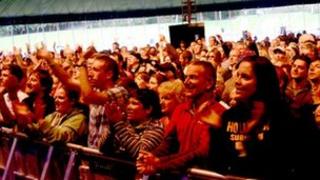 Organisers hope to build on the success of the first Jersey Folklore Festival after 2,000 people attended the event over the weekend.
The two day event, which had the capacity for 5,000 people, featured music, comedy and poetry at People's Park in St Helier.
There were no arrests during the festival, said a spokesman for the States of Jersey Police.
Joan Armatrading, Van Morrison and Ray Davies performed.
Chris Bell, press officer for the festival, said: "For the first year, it's been a great success and it's a great new event for Jersey.
"There was a really nice vibe about the event, a really friendly, warm audience who all helped to create something special.
"I think 2,000 people per day is a promising start for any new small festival, and we hope to build on it for future Folklore festivals."
Mr Bell said there were only two complaints from neighbours during the festival and no major incidents reported by St John Ambulance.