Delays for passengers into Jersey during Olympics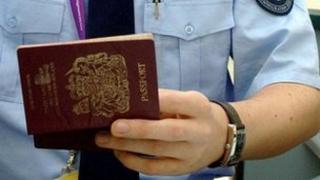 Passengers arriving in Jersey during the Olympics could face delays due to increased security.
Jersey's Customs and Immigration said it was increasing staff at the Harbour and Airport from 19 July to 12 August.
It followed UK plans to step up security measures during the sports event after an increased risk of illegal immigration and terrorism.
Customs will work with the States of Jersey Police, Guernsey Border Agency and the UK Border Agency.
Mike Robinson, the head of Jersey Customs and Immigration Service, said the department wanted to stop Jersey becoming a back door for terrorists into the UK.
'Fully prepared'
But he said the security measures would not be over the top.
He said: "It is vital that Jersey plays its part to ensure that there is no attempt to use the island to gain illicit entry to the UK.
"The measures we are introducing are judged to be proportionate to that risk and I would like to assure the people of Jersey that we will make every effort to minimise any disruption to the travelling public."
Det Ch Insp Chris Beechey, from Jersey Police, said: "The States of Jersey Police are fully prepared to respond to the unique challenges of the Olympic Games coming to the UK."