New planning rules for Jersey business developments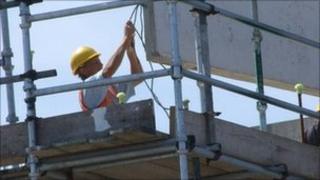 New rules to stop housing developments on land and buildings used to provide employment have been introduced.
Jersey's planning minister said it would protect jobs and businesses as demand for homes increases.
Hotels, guesthouses and campsites were exempt but developers would need their schemes to be significantly smaller in countryside and coastal areas.
Deputy Rob Duhamel said 77% of the 5,700 businesses in Jersey employed five people or fewer.
He said sites available for new business development were scarce.
He said: "There is a clear need for the island's economy to be protected and allowed to regenerate, and importantly, for jobs to be protected and created.
"To do this, business and commerce need land and buildings, and the planning system can help to ensure that existing employment land is not lost to other forms of development."