Gold and silver traces 'may be in Jersey coin hoard'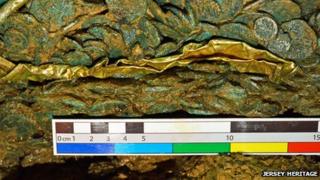 Traces of gold and silver may be buried within the hoard of Roman and Celtic coins found in Jersey last week.
Olga Finch, curator of archaeology at Jersey Heritage, said: "We have spotted traces of jewellery, a piece of twisted silver and little thin sheets of gold with a hint of decoration on the edge."
She said once they had removed the items they could be identified.
The 50,000 coins, thought to be worth up to £200 each, were found by two metal detectorists last week.
The find was believed to be one of Europe's largest hoards of ancient coins and weighed about three quarters of a tonne.
'Exciting discoveries'
Ms Finch said: "The fact that there are traces of jewellery and person ornaments and belongings, it puts a whole new dimension to it."
The hoard was discovered after more than 30 years of searching by Reg Mead and Richard Miles.
Now Jersey Heritage staff are working with the Société Jersiaise and experts from the British Museum to build a clearer picture of what was found.
Neil Mahrer, conservator with Jersey Heritage, said: "As we unravel the story behind the hoard we are beginning to make some very exciting discoveries."
He said the coins were of Armorican origin - the modern day Brittany and Normandy in France - and were from a tribe called the Coriosolitae, who were based around Rance in the area of modern-day Saint Malo and Dinan.
He said the coins dated from the time the armies of Julius Caesar were advancing north-westwards through France, driving the tribal communities towards the coast.
"Some of them would have crossed the sea to Jersey, finding a safe place of refuge away from Caesar's campaigns," Mr Mahrer.
"The only safe way to store their wealth was to bury it in a secret place."
The hoard has been reported to the HM Receiver General who will determine its status.