Jersey gas holder damaged by fire to be decommissioned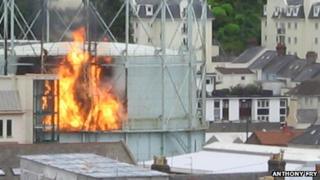 Work has begun to decommission the gas holder which caught fire in Jersey's town centre on Wednesday lunchtime.
Jersey Gas said the gas holder would not be replaced in its current Gas Place site.
Independent experts working with police and fire service were investigating the cause of what police described as a "major incident".
Homes, businesses and schools were evacuated when the fire started and it took 17 hours to put the flames out.
Two Jersey Gas staff were injured. A plant fitter suffered minor facial burns and another man was treated for shock in Jersey's General Hospital.
Compensation claims
Jersey Gas managing director, Tony Nichols, said the firm was considering compensating people who were disrupted by Wednesday's fire.
He said: "We are aware that people have incurred major discomfort and possibly expense and inconvenience as a result of this incident.
"We will be dealing with every claim for compensation on its own merits."
Mr Nichols said the fire started while maintenance work was being done on the storage tank.
"Without the gas holder, the island's gas supply is diminished to some degree," he said.
"The holder's primary function is as back up and it is there to give us continuity of supply in the light of a technical failure at La Collette."
He said there would be a 24-hour rota system to supervise the La Collette site to maintain the island's gas supply.