Jersey civil servant payout 'could have been avoided'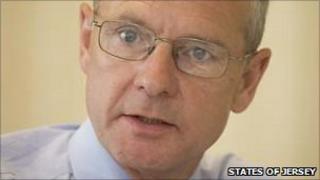 Jersey's former chief minister Terry Le Sueur could have avoided a payout to top civil servant Bill Ogley, says a report.
A review of the £500,000 pay-off said Mr Le Sueur could have stopped the breakdown of Mr Ogley's relationship with the treasury minister.
Mr Ogley said one of the reasons he had left was because he could not work with Treasury Minister Senator Philip Ozouf.
Mr Le Sueur told the BBC he did not want to comment.
Deputy Tracey Vallois, who led the review into the so-called golden handshake, said she believed Mr Le Sueur had known things were going wrong.
'No intervention'
She said the review had found a number of failures in the way the States managed its staff.
Deputy Vallois said the former chief minister should have stepped in.
She said: "There was nothing done by the chief minister, there was no intervention, there was no sit down discussion, there was no performance appraisals done for the former chief executive beforehand.
"The only one that has been found on file is the one done in 2011 for the year 2010 which said the former chief executive had done very well in his job and everything was fine."
"We believe [human resources] could be brought up to a better standard and we believe the chief minister could have done a lot more."