Final tender from CT Plus to run Jersey's buses approved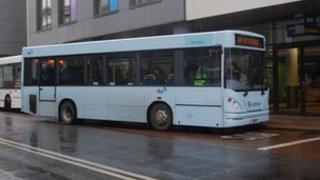 Jersey's transport minister has approved the final tender from CT Plus for the island's public and school bus contract.
CT Plus is the preferred bidder and is due to take over from Connex on 1 January 2013.
The seven-year contract would be worth just under £3.5m per year.
The minister, Deputy Kevin Lewis, said a major change to the contract terms meant the income from fares would go directly to the operator.
He said: "This will give CT Plus Jersey the incentive to grow the service and make it more efficient.
"The States will receive 50% of any operating profit which is in excess of 3% of turnover for reinvestment in sustainable transport initiatives."
CT Plus, which runs Guernsey's buses, was given the go-ahead to order new buses for Jersey, and discuss transfer opportunities for current Connex workers.
Last month, Connex workers threatened to strike over a pay deal.
At the time, the Unite union raised concerns about the new operator taking on the new pay deal.