Jersey business confidence remains low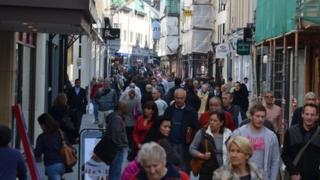 Business activity, confidence and profitability indicators reached record lows in some Jersey firms in the last three months, says a report.
The quarterly States of Jersey business tendency survey asked island firms for their opinions on trading and their expectations for the next three months.
It showed the finance industry profitability indicator was down compared to last June.
Confidence in the construction and retail industries remained low.
The Jersey Construction Council's Martin Holmes said the building industry faced a difficult future.
The survey found 69% of construction firms saw a decrease in profit, and almost half of firms saw a decline in employment.
Eurozone crisis
"I think the immediate future is a very difficult one," Mr Holmes said.
"Business confidence is very important and the work the Construction Council is doing in lobbying with government, including the planning department, is to make sure we get the permissions out into the market place as quickly as possible.
"I think you will find construction companies over the next 18 months will have to just cut their cloth to suit the work that is available."
Two fifths of firms in the finance industry saw a drop in employment but half saw no change.
Jersey's Economic Development Minister Senator Alan Maclean said: "It is as we expected it to be.
"There is going to be no rapid recovery as we have seen and this latest phase kicked off when the eurozone crisis basically took a downturn last year.
"Where there is uncertainty people are less likely to spend."