St Helier parishioners approve £15m for elderly care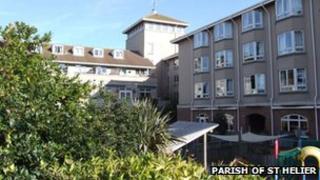 People in St Helier have agreed to spend up to £15m on care for older parishioners.
St Helier Constable Simon Crowcroft said the funding was "almost unanimously" approved at a rates meeting on Wednesday night, with one person voting against it.
The money will be used to expand St Ewolds care home and convert Maison de Ville care home into retirement flats.
It will come from the parish reserves and any sale of the new flats.
Residents and staff from Maison de Ville will be moved into the expanded St Ewolds.
The ground floor of Maison de Ville, once empty, will be converted a new preschool nursery for children from the Avranches Nursery at St Ewolds.
Constable Crowcroft said the retirement flats would be above the nursery and parishioners would be asked to decide whether to sell all or some of them to recoup the costs.
He said: "Parishioners may prefer to keep hold of those units because it makes it possible to provide units to those who cannot afford to buy them."
'Growing population'
He said: "We have known for several years now that Maison de Ville home, while doing a fantastic job, is not going to be passed by the regulator much longer, causing concerns about jobs.
"The new facilities we are going to provide will need to tackle the growing population, the fact that more people will have dementia, and will have a higher level of care."
But providing enough care for older people was an island-wide problem, not a parish one, said the chairman of the St Clement Community Support Team.
The group is made up of volunteers who help vulnerable people in St Clement.
Chris Le Cornu said he believed Jersey's health department should pay the bill for care, not parishes.
But Jersey's Health Minister Anne Pryke said it was not her responsibility because of the way care for the elderly was funded in the island.