Doggerland uni study in Jersey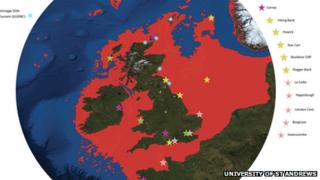 A project based in Jersey for the past three years has been uncovering the secrets of a lost land.
British university scientists have been in the island researching Doggerland.
It is an area of land that stretched from Northern Scotland and Denmark to the Channel Islands before being slowly submerged thousands of years ago.
Dr Martin Bates and his team from St Andrews University have been studying La Cotte, an ice age site, near Ouaisne.
He said Jersey was a vital piece of the puzzle when looking at the story behind Doggerland.
"We are trying to understand what the nature of the landscape these hunters were operating in," Dr Bates said.
"All of the time they were living, Jersey would have been part of the dry English Channel landscape where you could walk out tens of kilometres over what is now the sea bed."
He said Doggerland was the real heartland of Europe until sea levels rose to give us the UK coastline of today.