Jersey Electoral Commission meeting considers States reform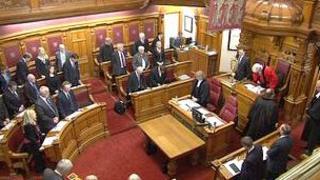 Jersey's Electoral Commission is considering how people should be represented in the States Assembly.
The Commission is holding public hearings to find out how people would like to see the States reformed and what constituencies should be like.
Reform has been on the agenda in the States for decades but the number of people voting is in decline.
A meeting on Monday heard a range of views, from removing Constables to larger districts.
At the last election in 2011 the average turnout was 48%.
This was the first election where the three types of States members - senator, deputy and constables - were elected on the same day.
Politics graduate James Rondel's dissertation on government reform is being used by the Commission as part of its deliberations.
He wants a new role for the constables in an upper chamber reviewing legislation.
Mr Rondel said: "At present our scrutiny system isn't functioning correctly and by having the constables in an upper house we would have some wise old heads hopefully being able to look over legislation."
Student Sam Mezec, who plans to run for the States at the next election, said he wanted bigger constituencies to bring in fresh ideas.
He said the current system was unfair as people in St Helier have one States member for every 3,000 people, whereas people in St Mary have one member for every 1,000 people.
The Commission said it had a rich and diverse range of views to go through over the summer.
They then have to be able to put their findings to the States and come up with a question to put to the island in a referendum.