Jersey bedroom fire across the hall from sleeping child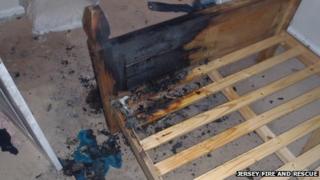 A toddler was rescued by her father after a smoke alarm alerted him to a fire near to where she was sleeping.
The fire was in an empty room across the hall from the bedroom where the one-year-old was in her cot.
Two Jersey fire crews and a paramedic unit were called to the house on St Clement's coast road on Monday evening.
Neighbours having a barbecue next door had put out the fire using a garden hose and a bucket of water, said firefighters.
Crew commander Daniel Laurens said: "Yet again the value of a working smoke alarm has been proven.
"Without it we would have been faced with a far more serious situation."