Jersey man proposed with beach art during a skydive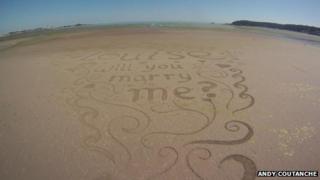 A man proposed to his girlfriend with the help of some beach art after the pair skydived on to a Jersey beach.
The plane carrying Decio Ferreira and Louise Hotton flew over the beach art in St Aubin's Bay before they parachuted to the ground.
Artist Andy Coutanche, known as the Jersey Sandman, wrote the proposal in the sand.
Mr Ferreira said he was delighted that Miss Hotton said "yes".
Miss Hotton said: "It was really such a shock because I got up early at six to get ready for work.
"Decio said, 'I have got a surprise for you, you are not going to work, you are jumping out of a plane at 10,000 ft'.
"I had no clue he was going to do all this as well; it was just amazing."
Mr Ferreira said waiting for her answer was more nerve-wracking than jumping out of the plane.
Miss Hotton said: "I was just so choked and was just bawling my eyes out. It was really emotional and gorgeous, and I was speechless."
Mr Coutanche said he had never produced a work of art so personal or romantic.
He said: "It was a little bit daunting, I must admit, because there was obviously a lot riding on it, and it was a bit of pressure."
The couple said they were planning their wedding for 2014.