Barbados trip was 'good value' says Jersey politician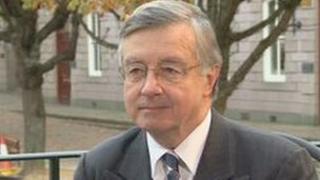 A trip to Barbados was good value for money, according to the chairman of Jersey's Electoral Commission.
Senator Sir Philip Bailhache has been defending a trip to the Caribbean island to study how its government works.
Three members of the Electoral Commission researching the reform of Jersey's government system went on the trip at a cost of more than £6,000.
Deputy Geoff Southern condemned the visit and called it a "jolly".
He said it was "an unnecessary and outrageous waste of taxpayers money and time".
Deputy Southern said: "There is little to discover from a visit [to Barbados] that could not have been covered by an internet trawl or a Skype conference."
'Not the crown jewels'
But Senator Sir Philip Bailhache said the trip was important and could not have been done over the phone or online.
He said: "It is true that a certain amount of research can be carried out online and it is possible to have a conversation by telephone if you know what you want to talk about with a particular person.
"But we were on a much broader investigation than that and particularly with senior people whom one does not know, it is just not possible to get them to come to the telephone at a moment which is convenient for members of the commission."
Sir Philip added: "Six or seven thousand pounds is not an insubstantial sum of money but in the context of getting a system which is right for Jersey, it is not the crown jewels."