Jersey's new population law delayed by Privy Council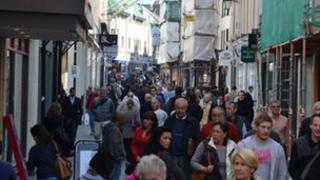 A new law the States hopes will help control Jersey's population level has been delayed until 2013.
The new housing and work law includes the introduction of registration cards and a population register.
It was due to come into force in September but has been held up at the Privy Council while waiting to get approval.
Assistant Chief Minister, Senator Paul Routier, said while waiting they would tighten up the current housing law.
'Local jobs'
He said: "We are using those existing laws in a firmer way than we have done previously.
"People coming to us to establish a business or increase the number of people not from the island are not receiving approval unless there is a high social need."
Jersey's Chief Minister Senator Ian Gorst said a firmer application of existing laws was a clear response to the current economic climate.
He said: "We will continue on this course, while also offering support to unemployed islanders and employers through the Back to Work programme.
"In doing this, we must also ensure that Jersey remains 'open for business' when considering requests that safeguard and create local jobs."