Jersey historian concerned over airport development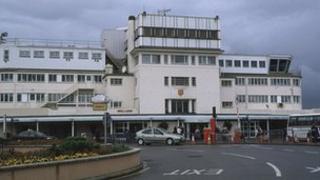 A historian has called for Jersey's original airport building to be given protected status.
Marcus Binney, from the campaign group Save Jersey's Heritage, wants the 1937 terminal to be preserved.
Planning Minister, Deputy Rob Duhamel, said it was being redeveloped to meet modern safety standards and a chimney had to be taken down to meet airport safety rules.
Mr Binney said the old terminal was an important part of the island's history.
Alistair Layzell, an aviation historian and former politician responsible for planning, said he was worried some of the building's original features had been removed.
He said: "As the demolition of the 70s and 80s extensions proceeded bits of the 1937 building have gone missing.
"What worries me today is that lack of attention to detail is symptomatic of the planning department's attitude to this important part of the island's heritage."
Deputy Duhamel said: "We have to itemise the features of the building that are important and worthy of retention as far as possible.
"That doesn't imply the whole thing will be mothballed and no changes allowed."