Polar bear victim Patrick Flinders 'looks to future'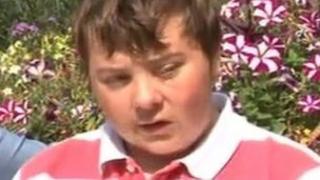 A teenager from Jersey who survived a polar bear attack is concentrating on the future as part of his attempts to put the ordeal behind him.
Patrick Flinders was 17 when he was injured during the Arctic expedition in Norway in August 2011.
Horatio Chapple, 17, from Wiltshire, was killed by the bear.
A year on, Patrick said being with friends had been helping him to cope, and that the scars he sustained during the attack had been healing.
'Remembered for something'
A group of 13 from the British Schools Exploring Society were asleep in their tents when the bear attacked near the Von Post glacier on 5 August 2011.
The 250kg bear got Patrick by the arm while he was still in his sleeping bag, and had his head in its jaws just before it was shot dead.
The bear mauled five people, killing Horatio and injuring Patrick before it was shot by group leader Michael Reid, from Plymouth.
Mr Reid, fellow group leader Andrew Ruck, from Brighton and teenager Scott Bennell-Smith, from Cornwall, were also injured in the attack.
Patrick said being with friends over the past year had helped him cope.
He said: "I've just basically been with friends all the time to put it to the back of my mind.
He said he was "known as the boy who survived the polar bear attack".
He said: "It's all right. At least I'm remembered for something.
"I'm still here, but I'm still keen to put it behind me and look to the future."
No charges have been brought over the incident.
Svalbard's governor ruled the incident resulted from "a number of unfortunate circumstances" and that the British Schools Expedition Society did not act negligently under criminal law.