New Jersey bus firm wants islanders' vote on designs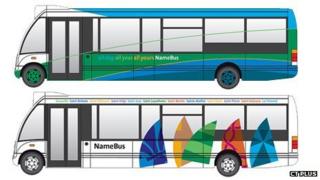 Jersey residents have been asked to vote on new designs for how the island's buses will look.
Operators CT Plus, will take over the service in January.
There are two designs, one featuring Jerriais parish names and multi-coloured sails, the other showing waves of colour.
The poll is being run online for people to vote for the design they would like to see, with the winner being used across the fleet.
CT Plus Jersey also want people to send in suggestions for what the bus service should be called. The current service, run by Connex, is called MyBus.
Dai Powell, chief executive of parent company HCT Group, said: "It's Jersey's bus service, so we strongly believe that the public should have their say about what it looks like and what it's called.
"We also want to have a conversation about how the service itself can develop, so we'll be starting a consultation process shortly. "
The liveries were developed by graphic designer David Shaw, who said: "The first of the designs is contemporary and colourful. The aim is to reflect Jersey's pride in its parishes and island life. It is a collection of sails, each showing a parish crest.
"The second is a modern take on traditional bus liveries. Jersey's natural beauty was the inspiration for its sea, sand, grass and sky colours."