Michael Stewart railings death 'was misadventure'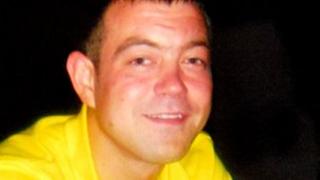 A man who died when he was impaled on railings outside his flat had been trying to climb through a window after being locked out, an inquest heard.
Michael Stewart, 30, originally from Derry, fell on to the railings in Val Plaisant, Jersey, after going out drinking on St Patrick's Day.
The father of one had been trying to get into his flat via an open window.
Recording a verdict of misadventure, Deputy Viscount Peter De Gruchy ruled he died from puncture injuries.
The inquest heard Mr Stewart had been out celebrating St Patrick's Day until the early hours.
It is believed he climbed up the front of the house before losing his footing, falling and landing on the railings.
At the inquest, a forensic pathologist said Mr Stewart's blood alcohol level was three times the legal drinking and driving limit.
He was found by a witness with his leg still stuck on the railings. Puncture injuries were also found to his chest, abdomen and thigh.
It is thought he died within minutes of the accident due to severe internal bleeding.
Mr De Gruchy said Mr Stewart's death was an accident caused by heavy alcohol intoxication.