Special mass to remember Jersey stabbing victims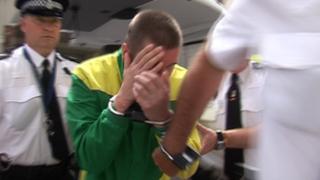 There will be a special mass to mark the first anniversary since six people were killed in St Helier last August.
There is a Holy mass at St Thomas's Church on 14 August at 19:30 BST which will be held in English and Polish.
Izabela Rzeszowska, 30, her five-year-old Kinga, two-year-old son Kacper, and her father Marek Garstka, 56, died of stab wounds on 14 August 2011.
Her friend Marta Dominika De La Haye, 34, and her five-year-old daughter Julia Frances were also killed.
A spokesman for the Catholic Church in Jersey said: "Representatives of the police and hospital services will be attending due to their participation in providing immediate response to this terrible taking of life."
It will be lead by Jersey's Catholic Dean, Monsignor Nicholas France, and acting chaplain to the Polish Catholic community in Jersey, Father Stanislaw Adamiak.
Damian Rzeszowski, 31, is charged with murdering his wife and two children, his wife's best friend and her child, and his father-in-law at Victoria Crescent in St Helier.
He pleads guilty to manslaughter due to diminished responsibility, but denies murder.
His trial starts on Monday and is expected to take up to two weeks.