Homelessness 'increasing' in Jersey, says charity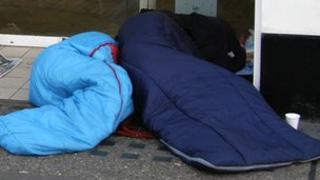 Homelessness is a hidden problem in Jersey that is going to get worse over the next few years, according to a charity.
It is thought up to 350 islanders do not have anywhere to live.
Caring Hands, a charity that runs two refuges for men, plans to expand its services by increasing the number of beds from 30 to 100.
Housing Minister, Deputy Andrew Green, said the States were building new homes as quickly as they could.
He said: "We have got to do something about young people under 25, at the moment the message that goes out is get yourselves children and you will be housed. That isn't right.
"We are not doing our bit for the under 50s and particularly the under 25s as well. That is one of my policies that has to be solved but it needs to be done in a way that isn't spin."
The minister said there was no point changing the criteria to make it easier to get on the housing list until they had built more social housing.
Deputy Sean Power, speaking on behalf of the charity, said there were people sleeping in tents, toilets and hedgerows in Jersey.
He said job loss, family breakdown and addiction were the main causes of homelessness.
"There are people this morning waking up living in old vans, people living in toilets and we found a man living in a hedge with some plastic tarpaulin.
"This morning there are people out there living rough," he said.
Deputy Green added: "Since I have been housing minister we have done a lot of work to improve that situation. You can't build a house in five minutes.
"A huge amount of work is going on behind the scenes, we have about £85m to invest in improving the situation."