Damian Rzeszowski killed wife and children in Jersey 'after wife's affair'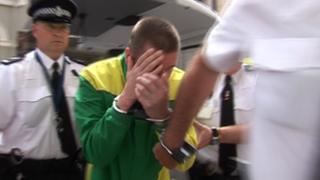 A man killed six people, including his wife and young children, because his marriage was failing after his wife had an affair, a Jersey court has heard.
Damian Rzeszowski, 31, from Poland, stabbed his victims at the family's St Helier flat in August 2011.
He has pleaded guilty to manslaughter but denies all six counts of murder.
The Royal Court heard Rzeszowski's two children, aged five and two, and another five-year-old each suffered more than a dozen stab wounds.
Rzeszowski is accused of murdering his wife Izabela Rzeszowska, 30, along with their daughter Kinga, five, and son Kacper, two, on 14 August 2011.
He is also accused of murdering his wife's father Marek Garstka, 56, her friend Marta De La Haye, 34, and Mrs De La Haye's five-year-old daughter Julia.
'Violent character'
Mr Sharp described Rzeszowski, who worked as a builder before his arrest, as a "pressure cooker who lacks a safety valve".
He said: "He has difficulties controlling his emotions and communicating his frustrations and worries.
"He has a history of violence and has been involved in somewhere between five to 10 fights since he moved to Jersey in 2005."
The court heard the killings took place against a backdrop of increasing marital difficulties.
Solicitor General Howard Sharp, for the prosecution, said: "Until around June 2011 the defendant's day-to-day behaviour was unremarkable, but things changed in June and July.
"What was the cause of that change? The answer is to be found in the state of the defendant's marriage.
"It had been in difficulties before the incident happened, but by this time it was under great strain."
The case is being heard by a judge, Bailiff Sir Michael Birt, and two jurats - unpaid elected legal officers similar to UK magistrates.
Mr Sharp told them that during this period Mrs Rzeszowska admitted to her husband that she had been having a two-month affair with another man.
After learning of his wife's infidelity, the court heard, Rzeszowski started going out drinking and had a one-night stand, before taking an overdose of pills on 19 July.
'Black-out'
The knife attack took place in the couple's home in Victoria Crescent, St Helier, on the day they returned from a holiday to Poland.
Before the attack Mrs Rzeszowska and her father left the flat to go and get Mrs De La Haye and her daughter so they could all have a barbecue together.
When they returned, they found that Rzeszowski had gone out and left the children by themselves.
Mr Sharp said: "His wife remonstrated with him about leaving two young children on their own, and from this point on he says he had an apparent black-out."
Over an hour-and-a-half after the argument, Rzeszowski used a kitchen knife to stab his father-in-law who was sitting on a bed watching television.
The attack severed his spinal cord.
Rzeszowski went on to stab the three children, who were painting in the living room.
The court heard Julia De La Haye, five, was stabbed 16 times, Rzeszowski's son Kacper, two, was stabbed 13 times and daughter Kinga had 16 wounds.
He then went on to stab the two women.
Mr Sharp told the court it looked like Mrs De La Haye was attacked in the doorway of the house as she tried to escape.
Mrs Rzeszowska had tried to call for help using 997 - the Polish emergency services number.
Prosecutors said she was chased through the flat and on to the street where he continued to stab her in view of the neighbours.
The court heard neighbours tried to intervene, then Rzeszowski started stabbing himself as he went back inside the flat.
He slumped to the ground with a collapsed lung near where he had attacked his father-in-law.
'Lost temper'
Mr Sharp said: "The state of their marriage was a determining factor in the defendant's behaviour in June and July last year.
"He could not face the prospect of a failed marriage."
Mr Sharp said the argument "probably" happened at 13:00 BST or shortly thereafter and the killings started at around 14:45 BST.
"We know for sure that 999 calls were made at 14:58 and 15:00 BST when several residents saw the defendant on the street with a knife, which happened at the very end (of the attack)," he said.
Mr Sharp said this lapse in time showed the attacks had not been the product of a momentary loss of control.
He added: "It's one thing for the defendant to say he lost his temper in the heat of the moment, it is quite another to say he had an hour and three-quarters to think about it."
The trial is expected to last for up to two weeks.