'Little can be done' about Jersey beach seaweed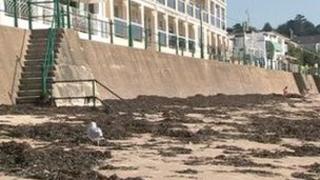 There is little that can be done about seaweed on Jersey's beaches according to the department responsible for clearing it.
The Chief Officer of Transport and Technical Services, John Rogers, said the increase in sea lettuce across St Aubin's Bay was partly because of the hot August weather.
In June, beach-cleaning teams stopped removing it and dumping it in the sea.
This was after objections from the Environment Department.
Mr Rogers said their teams were back at work again and trying their best to clear it.
He said: "To be honest at the moment the only solution we've come to is the one we've been doing for the past 20 years and that is to put it back in the sea.
"This is a very fine sea lettuce, when you pull it off the beach with a load of sand it is full of salt, it rots and starts smelling."