Killer of six including his children 'not lying about voices'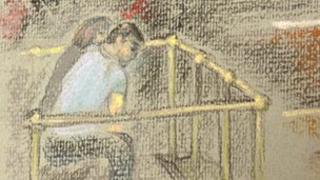 A man accused of murdering six people in Jersey, including his wife and children, was probably not lying about psychotic symptoms, a court has heard.
Damian Rzeszowski, 31, stabbed his wife Izabela Rzeszowska, 30, daughter, Kinga, five, and son, Kacper, two, in St Helier on 14 August last year.
At the Royal Court, he is also accused of murdering his wife's father, her friend and her friend's daughter.
He admits manslaughter with diminished responsibility but denies murder.
Dr Samrat Sangupta, a psychiatrist at Broadmoor Hospital, where Rzeszowski has been held, said it was unlikely he was lying about his symptoms on the day of the attack.
Advocate Gollop, representing Rzeszowski, said he had a serious mental illness when he stabbed the six people.
'Frenzied attack'
As well as the deaths of his wife and children, the defendant is accused of murdering Marek Garstka, 56, Marta De La Haye, 34, and Julia De La Haye, aged five.
Putting forward his defence, Advocate Gollop said "there's little doubt it was a horrific, frenzied attack".
But he said such a loss of control, which saw a hard-working family-man stab his children, "must have been caused by an abnormality of mind".
Dr Sangupta is the first of four witnesses being called by the defence, all of which are medical professionals.
Advocate Gollop said those experts have all concluded Rzeszowski was suffering an abnormality of mind.
Dr Sangupta said after looking at medical records from before the attack, reports in the days after, and tests and investigations at Broadmoor he "has no reason to believe Rzeszowski would be making it up".
"It's difficult to comment with 100% certainty but I think it's unlikely."
Dr Sengupta told Bailiff Sir Michael Birt and the two jurats that stress had caused him to develop a severe depressive episode, which led to the killings.
Part of Rzeszowski's defence is that he was hearing voices - a psychotic symptom - on the day he killed his family and friends.
On Thursday the court heard from a key prosecution witness, who believes Rzeszowski was lying about those voices.
The trial continues.