Damian Rzeszowski killings: Crimes that shocked Jersey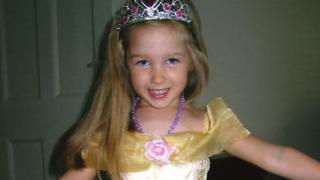 On a sunny day in August 2011 a quiet Victorian terrace on the outskirts of St Helier became the scene of one of Jersey's most violent crimes.
Damian Rzeszowski, 31, killed six people, including his wife and two children, at the family's St Helier flat.
In his trial, just over a year later, he has been cleared of murder but has admitted manslaughter with diminished responsibility.
One of the victims was his five-year-old daughter Kinga. She was stabbed more than a dozen times.
Described as "bubbly and full of life" by her teacher, Kirsty Hawksworth, Kinga had just finished her first year at D'Auvergne school, just around the corner from her home.
Despite a year passing since her death, the children in Kinga's class still talk about her, especially during art, which was one of her favourite subjects.
Mrs Hawksworth said Kinga "loved learning" and added: "One day she brought in a little Polish dictionary and was teaching the children Polish words.
"It was so lovely, she held her own, stood up and she had all the children eating out of her hand, they loved learning what she could do."
Rzeszowski and Izabela Rzeszowska had moved to Jersey from Poland in 2004 and built a new life on the island.
They married there in 2005 and had two children, Kinga and two-year-old Kacper.
On the morning of the attacks, on 14 August, the family had just returned from a holiday to Poland that was aimed at saving the couple's marriage after Mrs Rzeszowska admitted to having an affair.
'Shocking' scene
But on their return, Rzeszowski turned on his family and friends.
Islanders consider Jersey to be one of the safest places in the western world. There has not been a murder since 2004.
But in 15 minutes Rzeszowski took six lives.
As well as killing his 30-year-old wife, daughter and son, he also killed his wife's father Marek Garstka, 56, her friend Marta De La Haye, 34, and Mrs De La Haye's five-year-old daughter Julia.
John Sutherland, from the Jersey Ambulance Service, was one of the first paramedics at the scene.
"We see horrible injuries and terrible illness on a regular basis but when it comes in such quantity at once, that is when it becomes shocking and hard to deal with," he said.
"They needed hospital intervention, they needed surgical intervention and you know there was nothing that we could have done at the scene that would have prevented what happened.
"We just did the best we could with what we were faced with."
A year after the stabbings a memorial service was held at St Thomas' Catholic Church in St Helier to remember those who died.
Jersey's Polish consul said islanders were still finding it hard to understand what happened.
Magdalena Chmielewska said: "I suppose a mass like that, getting together, it's really part of a healing process so it is important.
"So I shall say not only for the Polish community, it's important for all the people living in Jersey as I believe we all have been deeply, deeply touched by such a tragedy."
After the deaths psychologists offered assistance to anyone in Jersey struggling to comprehend the killings and the Constable of St Helier, Simon Crowcroft, said it would take a long time for the community to come to terms with the attack.
As part of their response to the deaths, Kinga's teachers and friends have created a garden outside the classroom at her old school in her memory.
Ms Hawksworth said: "When it came to doing Kinga's garden the children wanted to do something special for her.
"A lot of what is out there is what the children wanted her to have.
"We have put out a pink blossom tree because pink was Kinga's favourite colour.
"It hasn't blossomed yet, it is very small - a bit like Kinga. She was very small.
"Hopefully as the tree grows it will be like Kinga's life almost.
"She just loved having fun and that is what we want the children to be doing out there, to enjoy themselves."