Durrell hostel joins Youth Hostel Association network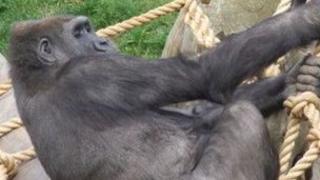 The hostel at the Durrell wildlife park in Jersey has become the only Youth Hostel Association (YHA) facility in the island.
The conservation charity says becoming a YHA venue should increase visitors and help tourism.
To be a part of the YHA network, the hostel's services and facilities will have to be continually reviewed.
Joshua Kogi, Housekeeper of Durrell Wildlife Hostel, said he hoped it would have a positive impact.
'Fantastic partnership'
He said: "We had an inspection from the inspector who was very thorough in making sure we were up to health and safety standards and our facilities were up to what they would consider top of the hostel standards.
"It is just about looking ahead and thinking about what could go wrong in the case of hosting guests."
Mr Kogi said they signed up with the YHA last month.
"The YHA is a quality standard that is recognised by all its members, they have about three million members and some people will only stay in YHA hostels," he said.
"Durrell ethos and YHA ethos run side by side, we thought it would be a fantastic partnership and they agreed we would be a unique place they would love to have in their list of properties," he said.