Jersey bus service to be LibertyBus after public vote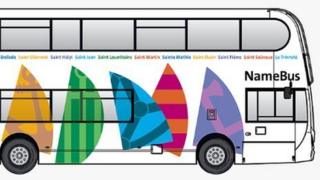 Jersey's new bus service will be called LibertyBus when it is launched.
CT Plus is taking over the contract to run Jersey's bus service from Connext on 2 January.
Dai Powell, Chief Executive of parent company HCT Group, said he felt it was important people got to decide on the name and design of the buses.
He said the final result was very close, just beating Avanchi which means advance in Jersey's native language, Jerriais.
LibertyBus will now the brand name for Jersey's bus service which will appear on each vehicle, the bus service website, brochures and timetables.
Mr Powell, said: "We've been delighted with the response. We think it's really important that we continue to engage with islanders about how we plan to develop the LibertyBus service."
LibertyBus received 41.98% of the public votes and Avanchi received 41.23%. The other two options were Jersey Clipper and Douze Vailes, a Jerriais word meaning Twelve Sails.
The company previously announced the result of a poll to pick the design of the new buses. They will feature multi-coloured sails and the names of parishes in Jerriais.