Jersey Air Display 'relies' on programme sales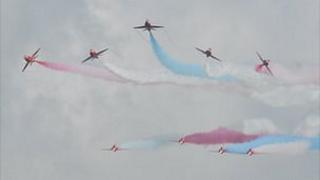 The Jersey Air Display could be under threat if they do not sell enough programmes, organisers warn.
Deputy Mike Higgins said that with heavy fog during the 2011 display stopping planes from taking off, they were not able to cover costs.
He said: "Last year was a disaster for us in terms of not having the flying display, we had all the expenditure and not the income coming in."
This year's display will feature the return of the B52 bomber which will do a "dirty and clean" fly past according to Deputy Higgins.
This involved the pilot going past as normal the first time and then returning with its landing gear down so people can see inside.
Deputy Higgins said: "Things are tight this year and could have an impact on the future.
"I just want to encourage as many islanders as possible to buy a programme, we are relying on programme sales to break even every year."
He said they do not collect money from the crowd for the display because any money raised goes to the Royal Airforce Association.
There will be three aerobatics teams on show at the display including the Red Arrows, performing for the first time since the Olympics fly-past.
There will also be a Battle of Britain Memorial Flight featuring a Lancaster and Spitfire. The RAF Hurricane was due to fly but had to withdraw.
The Hurricane, one of two operated by the Battle of Britain Memorial Flight, has an oil leak and is not airworthy.
The Spitfire and Lancaster are still due to take part in Thursday's display.
Other displays include the Red Arrows, the Black Cats, a Mustang and a flypast by a USAF B-52 Stratofortress.
The subsonic jet-powered bomber is due to fly from the United States, take part in both the Guernsey and Jersey displays before stopping to refuel in the UK ahead of returning to its home base.
There will be a range of aeroplanes on display in Jersey from around the world including the Broussard and Cri-Ci.
The Cri Cri, an electric plane, will be launched from a Broussard while in mid-air before performing an aerobatics sequence and landing at the airport.
The last time one aircraft was launched from another in Great Britain was in 1939 when the Short Mercury was launched off the top of the Short Mayo seaplane.
The display starts in St Aubin's Bay at 12:45 BST on Thursday and is free to watch.