Neil Faudemer fails to complete Jersey-Guernsey swim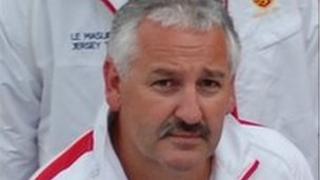 A veteran swimmer who was hoping to become the first person to swim between Jersey and Guernsey in 50 years had to stop the challenge 500m from the end.
Neil Faudemer, 52, from Jersey, set off on Friday and hoped to complete the 20 miles (32km) for charity.
But 15 hours into the swim and 500m (545 yards) from finishing he had to stop due to difficult tidal conditions.
His support team said the swim became too difficult after he went off course and the tide changed.
Mr Faudemer said it was unlikely he would try the swim again.
He said: "It's a really tough swim. But it would be really nice to see someone from the Channel Islands do it."
The last person to complete the swim was Ruth Oldham in 1962.
Last year Mr Faudemer became the first person to swim the 12 miles (19km) between Sark and Jersey.