Jersey shopping decline continues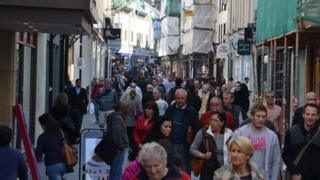 People have bought less in Jersey's shops and supermarkets this Spring, according to official figures.
Shoppers bought 7% fewer items between April and June this year than the same time in 2011.
It was the fourth time in a row the retail figures had shown a year-on-year drop in the amount people were buying.
Jersey's Town Centre Manager, Richard Mackenzie, said for the first time fewer shoppers had been recorded in the St Helier shopping precincts.
The figures from the States of Jersey Statistics Unit showed islanders bought 6% less in supermarkets and 5% fewer non-food items, such as clothes, furniture and books.
'Fighting like mad'
But while sales were down on an annual basis, shoppers bought more goods between April and June than in the first three months of the year.
Mr Mackenzie said he believed poor summer weather, extra bank holidays and the popularity of online shopping had all had an effect.
He said most retailers could not remember a more difficult time.
Mr Mackenzie said: "They are all fighting like mad to maintain their market share and we have had the most unseasonable weather for two summers running.
"Everything has been against the retailer and then against that they have had more bank holidays than they have ever had, with the Diamond Jubilee, and then we have had the Olympics which does not exactly make you want to rush out on to the high street."