Jersey politicians allowed to use laptops during debates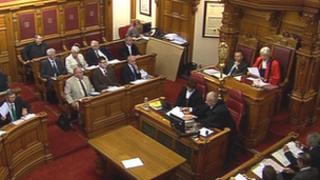 Jersey politicians can now use laptops and other mobile devices during debates in the States as part of a trial.
The States Assembly agreed to lift the rules which banned the use of smart phones, computers and laptops in the Chamber until July 2013.
States members will have to make sure they are silent and will not disturb other politicians.
But some were worried they would distract members from what was being said during debates.
'Totally discourteous'
Senator Francis Le Gresley said in the States on Wednesday: "This is a debating chamber and we have to have more respect for people who are speaking.
"Some people take a lot of time to prepare for speeches they are going to make and it is totally discourteous for members to be using handheld devices when that person is speaking because they are not paying attention to what they are saying."
Two years ago the Bailiff, Sir Michael Birt, ruled that using laptops and other devices might distract members from debates.
At the moment members are fined if their mobile phones go off or interfere with the microphones used to broadcast and record sessions.
There were 37 members who voted in favour of the trial, six voted against and eight politicians were absent during the vote.