Jersey visitor numbers are down by 10.6% in July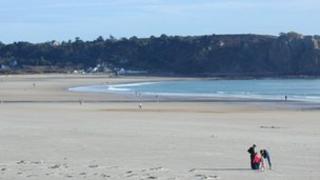 The number of people travelling to Jersey in July was down by 10.6% on the same time last year.
A Jersey Tourism spokesman said August was expected to be similar due to the recession and special events like the Olympics.
He said 16% fewer people travelled to Jersey by ferry in July compared with the same time last year.
And 18,500 fewer people chose to travel here by ferry in the first seven months of 2012.
The Jersey director of Condor Ferries Steve Bailey said: "In the UK this year it has been an incredibly busy period with the Queen's Diamond Jubilee, the Olympics, the Paralympics and Wimbledon."
'Extremely quiet'
Jersey Tourism said the total number of people coming to the island between January and July this year was 24,500, which was nearly 4% down on the same period in 2011.
Jersey Tourism's director David De Carteret said the number of people travelling from the UK in July were a tenth fewer.
He said while there was an increase in the number of German visitors, overall fewer people came to Jersey from the continent.
"Particularly in France I think the recession has really kicked in this year," Mr De Carteret said.
"We have had growth in France for the last two or three years and the information I have got is that on the coast from where we get most of our visitors it has been extremely quiet."