Jersey St John Ambulance to become independent from UK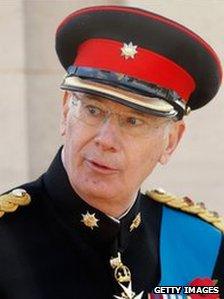 Jersey's St John Ambulance will become officially independent from the UK later.
The Duke of Gloucester, who is the second in command of the Order of St John after the Queen, is to lead a ceremony to mark the occasion.
There will be a procession from the States Buildings to the Town Church and back again.
His Royal Highness the Duke of Gloucester will lead a special ceremony at the church.
He will invest Cynthia Rumboll as Dame Commander of the new Commandery of the Bailiwick of Jersey.
Mrs Rumboll said: "The greater independence resulting from becoming a commandery allows St John Ambulance Jersey to build on its existing services whilst tailoring courses and services to the unique needs of island life on Jersey.
"The move to a commandery underlines the fact funds raised in Jersey will continue to stay on the island to be used for local initiatives and the benefit of Jersey people."
The Lieutenant-Governor, His Excellency General Sir John McColl, will also become a Commander of the Order of St John.
Mrs Rumboll said it would be a once in a lifetime event and the presence of the Duke of Gloucester made it even more special.
Related Internet Links
The BBC is not responsible for the content of external sites.