JT complainant sets up Facebook group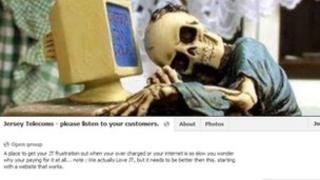 A Jersey man upset with his internet charges has said using social media to complain made companies "sit up and take notice".
Marc Mitchell set up a Facebook page after he was charged £250 over three months by JT for going over his agreed internet rate.
He said he wanted to see how many people had the same issue.
JT said it was not appropriate to open up a dialogue with customers through social media sites.
A spokesman for the telecoms firm said: "We choose not to make public comment on an individual's complaint.
"When JT is mentioned in a social network or public environment we approach customers individually so that we can work out the best possible solution for them."
'Downside'
The page has more than 1,500 members, which Mr Mitchell said was more than JT's pages on the social network had attracted.
He said: "We make a Facebook group and all of a sudden they are calling me.
"Not only that but they are arranging private times for me to meet them in a private room without having to be waiting in the queue for me to resolve my problem."
Social media marketing expert Andrew Lewis said: "It is extremely important that all companies embrace social media and most are doing exactly that.
"But the downside is of course that you will be able to promote your company but also sometimes get criticised if you get it wrong."