Jersey bus talks encouraged by minister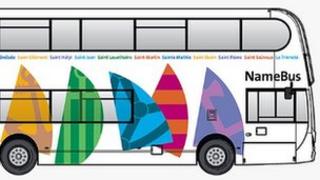 Talks between Jersey's outgoing and incoming bus companies are being encouraged by the island's transport and technical services minister.
It follows concerns guarantees made in the tender process that all staff could transfer to the new company were not being honoured.
Deputy Kevin Lewis said it appeared communications between Connex and CT Plus had broken down.
He said he would be working to get the situation resolved quickly.
Connex has run the island's bus service since 2002, but lost out to CT Plus in the tender process earlier this year.
The company, which is expected to employ an extra 10 drivers more than Connex, is due to take over the bus service in January under the name LibertyBus.
A spokesman from Connex said the firm was "surprised and disappointed" that CT Plus would not to transfer its employees to the new bus operator.
He said when Connex took over the bus service in 2002, it honoured existing terms and conditions and continuity of employment for all staff.
The spokesman said: "Our company fulfilled the obligation under the tender process but it seems that CT Plus has not.
"They must have decided to propose not to transfer staff, which may raise a few questions about the validity of the tender process."
'Ludicrous'
A CT Plus spokesman said: "We wish to make it clear that we intend to offer staff currently employed by Connex first refusal of jobs under the new transport contract which commences in January.
"The suggestion, made by Unite, that staff should be transferred automatically from one company to the other is ludicrous.
"This process requires the receipt of information from Connex and Unite.
"We did not receive much of this information which includes job descriptions, terms and conditions, staff numbers, employment history, length of service and average hours worked."
Deputy Lewis said: "We'll be encouraging Connex to speak to CT Plus, part of the HCT group, and just put this to bed as soon as possible.
"It's a difficult time for the workforce, I'd like to assure them that CT Plus have demonstrated in their tender documents they are fully capable of running a fully professional service."
"At this particular time they need to get the new contracts out to the staff, drivers, engineers, etc, so there's certainty over exactly what is happening on 1 January," he added.